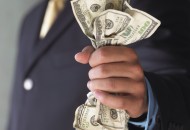 Americans will soon take over all high-class status, living with the richest people in the U.S. According to a recent report from The Boston Consulting Group, the U.S. has the highest number of total and new millionaires in the world. In 2013, there were 7.1 million households making seven figures, including 1.1 freshly minted ones.
At the same time, growth of lower and middle classes indicates that many are still struggling. A 2012 Pew survey found that about 32% of Americans considered themselves part of the lower-middle or lower class, compared to 25% in 2008.
For years, America's middle class was wealthier than any other in the world; but earlier in 2014, the middle class in Canada and parts of Europe outpaced their American peers, according to The New York Times. And while median annual household income for Americans is increasing (it's now $52,100), it's still 6.1% below what it was in December 2007.
Even worse, it's unlikely that current members of the lower classes will be able to rise in the socioeconomic ranks anytime soon. In 2012, The Times reported that there's significantly less economic mobility in the U.S. than in Canada and most of Western Europe.
If it's any consolation, it's possible that all those super-rich folks are more "new money" than "old money," working just as hard as the rest of us to earn their income.
Now, we want to hear from you! Would like to share your opinion or make a comment on the Unlock Your Wealth Radio Show? If so, then please leave your comment or questions in the space provided below and share this article with your friends and family on Facebook and Twitter. Your comments or question could be chosen as our featured Money Question Monday and a phone call by financial expert Heather Wagenhals could dial your way to be live on the Unlock Your Wealth Radio Show.
Source: Learn Vest