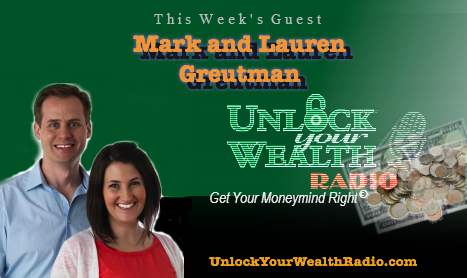 Frugal couple, Mark and Lauren Greutman overcome the biggest financial challenges in marriage, while sharing their story of how they got out of $40,000 in debt, offering listeners budgeting advice on the Unlock Your Wealth Radio, with host and executive producer, Heather Wagenhals. Tune in this Friday, October 24th at 9AM PST to hear how too, you can live the New American Dream.
Now debt-free, the married couple takes their passion to help other couples by sharing their perspective on money management and how to bounce back into financial savings through frugal living. This husband/wife team offers advice and share budgeting tips to help other couples get others on the same financial page, saving them money and their marriage.
"We had to find ways to overcome our financial hardships. Quickly. Choices that would result in immediate financial (and marital) help." ~Lauren Greutman
As Mark and Lauren share their story, we learn the couple was both involved in money decisions to overcome their debt. As Lauren became the frugal living expert through couponing, Mark spent his time creating spreadsheets, to help the frugal couple get through their financial hardship and out of debt.
The frugal couple goes into detail with their previous financial struggles and how it took them four years to get out of $40,000 debt and $1,000 monthly deficit. Now they are offering advice and helping others manage their money with their services of getting out of debt and changing other couples' financial futures, living the New American Dream.
Join Mark and Lauren, on Google Hangout, the last Sunday of every month to hear their own personal budget and how they achieve their financial goals everyday. You can also hear the dynamic couple on The Simpler Happier Life Podcast to hear more financial tips and budgeting advice for couples and individuals of all ages.
Tune in this Friday, October 24th at 9AM PST to hear UnlockYourWealthRadio.com on the Libsyn platform, as Mark and Lauren reveal who took the first action in their relationship to overcome their debt. You will also find and how they found their new American Dream of living for what really matters to them, which is their values of marriage and family.
This week's key trivia is based on last week's key, 
Dreams with Deadlines
. Plus
Minutes on your Money
, this week's
Moneyism
,
Money Drama
 and more in Season 21,
"Coloring Outside the Lines".
Listen every Friday at 9AM PST on the Libsyn platform as host, Heather Wagenhals, interviews top money experts and shares her unique money management concepts that help you get your budget in line and savings straight.