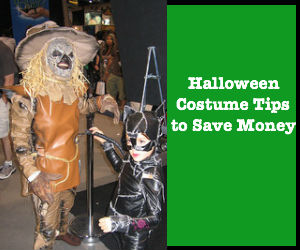 Considering the average amount you will spend on
Halloween
this year is $250, with the average price of a
Halloween
costume
to be $59, that is a heavy price tag, especially for big families. This one night can set you back a few hundred dollars for just a few photos and screams. Is it really worth it?
Keep those costs low and come up with a "do-it-yourself"
costume
this year so your piggy bank will remain just as full as your bucket of candy on on the 31st. At least keep your wallet full enough to last longer than the one-night of fun you're about to spend.
Consider the following do-it-yourself Halloween costume tips to save you money now, with priceless photos to remember later.
Add props
Use your own clothes to go as Raggedy Ann and add makeup and a wig or put those stored overalls into play and go as a Scare Crow and only buy the straw or hay. You can easily find these items at the dollar store or in non-seasonal sections at the store.
Repurpose home items
Use your brown paper bags from the grocery store and pack it with fake (or real) food and go as a "Full bag of groceries", other items around the house that can be of purpose include an old lamp shade, old clothing items that you can draw on, pillow cases, bed sheets and so much more, just look around your house.
Look for deals online
Check out discount items on sites like Craigslist or shop for wholesale costumes on eBay. Search under clothing or costumes to see what is most affordable and make your costume based on the material available.
The options are endless, but the money is not. So use your creativity this Halloween and save money while having that one night of fun!
Now, we want to hear from you! Would like to share your opinion or make a comment on the Unlock Your Wealth Radio Show? If so, then please leave your comment or questions in the space provided below and share this article with your friends and family on Facebook and Twitter. Your comments or question could be chosen as our featured Money Question Monday and a phone call by financial expert Heather Wagenhals could dial your way to be live on the Unlock Your Wealth Radio Show.
photo credit: pecanpieguy via photopin cc