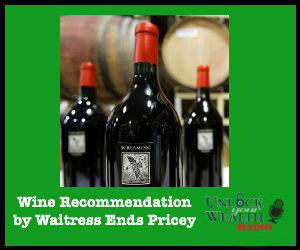 (NEWSER) – A group of Atlantic City diners got a very pricey lesson recently on how to order wine. It all started when Joe Lentini, while at a business dinner at Bobby Flay Steak at the Borgata hotel and casino last week, decided to split a bottle of wine with two others in the party of 10.
The host of the dinner, who was paying the bill, told Lentini to choose. Lentini told the waitress he didn't know much about wine and asked her to recommend "something decent"; she pointed to a bottle and Lentini, who wasn't wearing his glasses, asked how much. Her reponse: "Thirty-seven fifty." Imagine the group's surprise, then, when their bill totaled more than $4,700—because the wine, Screaming Eagle's Oakville 2011, actually cost $3,750. After discussions with the waitress and the manager, the restaurant would only bring the price down to $2,200, which Lentini and two others split so they could leave.
RELATED: 5 Expensive Ways Celebrities Spend Their Money
The three tell the Star-Ledger the waitress definitely said "thirty-seven fifty," not "three-thousand, seven-hundred and fifty," and one other diner adds, "we all thought it was $37.50." The newspaper's wine columnist questions why a diner who's admitted to being clueless about wine would be offered essentially the second-priciest bottle on the menu. Another wine columnist calls the waitress's actions "absurd"; both experts seem to agree the restaurant should have eaten the cost.
RELATED: Where The Super Rich Spend Their Money
But Borgata isn't budging: After an investigation, the executive VP says it was determined that "both the server and sommelier verified the bottle requested with the patron," and that's that. As for whether the drinkers got their money's worth? The wine "was OK. It was good," Lentini says. "It wasn't great. It wasn't terrible. It was fine." Meanwhile, the New York Post says you can snag a bottle of the California vintage online for $1,000.
Now, we want to hear from you! Would like to share your opinion or make a comment on the Unlock Your Wealth Radio Show? If so, then please leave your comment or questions in the space provided below and share this article with your friends and family on Facebook and Twitter. Your comments or question could be chosen as our featured Money Question Monday and a phone call by financial expert Heather Wagenhals could dial your way to be live on the Unlock Your Wealth Radio Show.