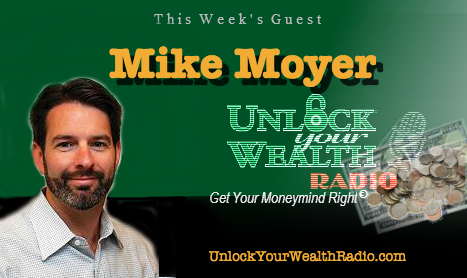 Mike Moyer, inventor of Grunt Fund, Founder of Lake Shark Ventures, LLC, and author of 8 books, joins Heather Wagenhals host and executive producer of Unlock Your Wealth Radio on the Libsyn platform. Tune in this Friday, January 23rd at 9AM PST as Mike explains why startup companies fail and what you need to focus on to ensure your startup becomes successful.
As an author of 8 books, including How to Make Colleges Want You, College Peas, and Trade Show Samurai, which provide structured advice to people who want to solve specific problems. Mike also has a successful track record as the inventor of Grunt Fund, a unique funding equity model which allows entrepreneurs to create perfectly fair equity split in their company, Lake Shark Ventures, LLC, where Mike invests in early-stage ventures and provides consulting focused on management and revenue generation. All of Mikes success has lead him to be one of the best experts in startups and entrepreneurship.
Learn what  "Alligator Pet Negotiation" and how this term can benefit your startup.
Entrepreneurs will gain a lot in this interview as Heather and Mike go through partnership scenarios, advising other entrepreneurs on how to structure a startup plan and succeed in choosing a partnership. Find out how a "Slice of Pie" can determine your fair market value as Mike reveals his framework of Slicing Pie, an app he developed that helps entrepreneur's figure out how to split and share partnerships in a startup.
Tune in this Friday, January 24th at 9AM PST on the Unlock Your Wealth Radio Libsyn platform as Mike reveals the core of the problem in startup companies and how you can avoid this problem before it's too late, explaining how to establish ground in partnerships and be successful as an entrepreneur.
This week's key trivia is based on last week's key:
Dreams with Deadlines.
Plus Minutes on your Money, this week's Moneyism, Money Drama and so much more as you Start anew in Season 22 with Unlock Your Wealth Radio.
Learn more about The Keys to Riches Financial Wellness Series in This Week's Key:
Knowledge is Power, Not Knowing is Powerful.
More on Mike Moyer:
Mike has been an entrepreneur who has started a number of companies including Bananagraphics, a product development and merchandising company, Moondog, an outdoor clothing manufacturing company; Vicarious Communication, Inc, a marketing technology company for the medical industry; Cappex.com, a site that helps students find the right college. In addition to his experience as an entrepreneur he has held a number of senior-level marketing positions with companies that sell everything from vacuum cleaners to financial data services to motor home chassis to luxury wine.