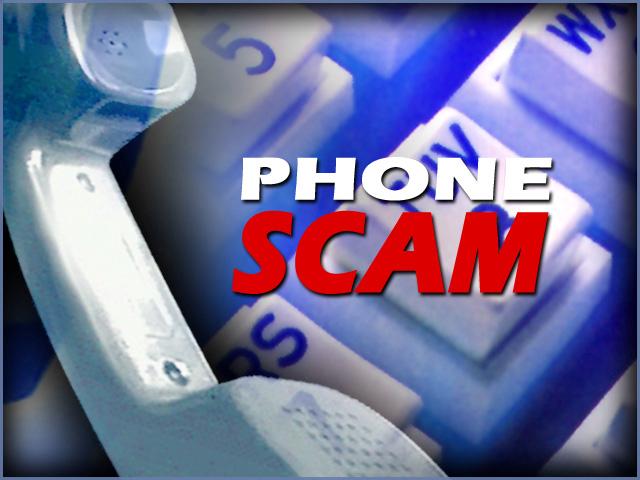 CBS Local – Thousands of people have lost millions of dollars on the newest telemarketing scams that prey on some of our worst fears. Law enforcement officials describe them as ruthless and relentless.
They are also challenging to agencies trying to track them because they use some of the latest advances in technology that make it difficult to trace their calls or follow the money they steal. So officials say you need to know what to look for so you don't get scammed.
RELATED: The Phone Fraud Handbook
The fastest growing scam may start with a phone call or a pop up on your computer advertising a company's services to fix a problem with your computer or get rid of a virus. 70-year-old James Dollison called because he was having trouble with his email. He says the man who answered was a "smooth talker" who asked him what he does on his computer.
"I told them I do email and my online banking and it was then he told me that some Nigerians were trying to hack into my computer," Dollison recalled. "He used fear tactics."
And it worked.
"I became terrified, because I knew all my money would be gone if they were successful," he said.
Dollison says the man gave him instructions on what to do on his computer that ultimately gave the scammer remote access so he could show him supposed proof of the hacking attempt.
"They said to sit in front of my computer and they indicated some section of my monitor that this is where the Nigerians are hacking into your computer. And of course I was very upset and everything they asked of me I went right along with it."
He agreed to pay $399 to fix it. After two to three hours they declared the job was done. Then Dollison realized he had been scammed. "I was upset and really angry," he recalled.
RELATED: IRS-Impersonation Telephone Scam
That's all part of a familiar pattern to the Federal Trade Commission.
"The pull up some files that are normal but they say indicate you've got very, very serious problems with your computer," said Steve Baker, the FTC's Midwest Regional director.
"They claim they are going to get rid of spyware," Baker said. "They really don't because it's not there to begin with. Often they do install spyware of some sort or another and that can make peoples computers crash."
The FTC has filed deceptive practices complaints against two different groups allegedly involved in massive computer service scams that have cost consumers $122 million. And officials say that's just the beginning.
"This is one of the fastest growing scams I have seen in years," said Baker. "And all of us are at risk."
Another major telemarketing scam starts with a threatening phone call supposedly from the IRS demanding money.
Tim Poulakis says he responded to a voice mail message from a man who said, "I am officer Andy from Internal Revenue Service." The caller warned him "don't discard this message" and told him to return the call before we take any legal action against you.
Poulakis said when he heard the message, "I panicked."
He called back and was told he owed the IRS money for errors in four years of tax returns. Poulakis said he was told he had to pay the money that day. "Otherwise you will be detained. Sheriffs will come to your office," and he would be arrested.
"They put the fear of God in me," Poulakis said and he followed their instructions. He was told to pull money out his account, go to stores and load up prepaid cash cards to pay off the $3,489 debt. They had him scratch a number off the back of the card, read it to them, and kept him on the phone until the money was apparently downloaded to an account.
Then Poulakis was told they had some type of error and the amount was incorrect. He actually owed an additional amount ultimately bringing his total to $20,177. He followed the same instructions using prepaid cash cards explaining that he always tries to "do what's right," and "I just wanted this to go away."
After learning from his tax preparer that this was a scam, "I was crying. And I couldn't believe it. I was so angry."
Tim Camus, the head of investigations for the U.S Treasury Department's Inspector General, says what happened to Poulakis "unfortunately is very typical at this time."
RELATED:  Phone Scam Fraudsters Pose as Marriott Employees
The agency estimates victims have lost about $15 million to IRS imposters since October 2013.
"It started out phone calls, threats of arrest, lost drivers licenses, deportation, to now where the scam has morphed into robo calls being made," Camus said.
He says they call 10-12,000 people a week and ironically the man heading the investigation into the IRS imposters was got one of those calls.
"I am not immune," Camus said. "Nobody is immune to receiving these types of calls," Camus said his caller demanded about $750 from him, "to start, then "threatened me with arrest by a magistrate. Of course they had no idea who they were speaking to and I ended the call by telling them their day will come and I hope it will come soon."
Camus said the agency has a "major investigation" underway and is making some headway with arrests in Florida of people who were part of a ring that netted $900,000. While their investigation continues, the agency urges anyone who gets a phone call out of the blue from someone claiming to be from the IRS demanding money that has to be paid immediately hang up the phone. You can call the IRS at 800-829-1040 to get help finding out if you actually owe money.
Don't be fooled by a phone number and caller ID that makes it look like the scammer is from the IRS.
"The criminals are using internet protocols to make the phone calls," Camus said, "to hide the true number they're coming from."
You should also know that the IRS does not have payment procedures that involve going to stores to get prepaid cards. "That should be a warning that you're receiving a call that is part of a scam."
To avoid the computer service scams, the Federal Trade Commission warns that the scammers may mislead you by falsely claiming they are associated with legitimate companies like Microsoft or Apple. Don't buy it without checking with Microscoft or Apple. And you should never give them remote access to your computer. If you do, they can take control and crash it, if you don't pay the money.
For additional information on tech support and other scams you can call the Federal Trade Commission at 877 FTC-Help or complain online at http://www.FTC.gov.
Now, we want to hear from you! Would like to share your opinion or make a comment on the Unlock Your Wealth Radio Show? If so, then please leave your comment or questions in the space provided below and share this article with your friends and family on Facebook and Twitter. Your comments or question could be chosen as our featured Money Question Monday and a phone call by financial expert Heather Wagenhals could dial your way to be live on the Unlock Your Wealth Radio Show.