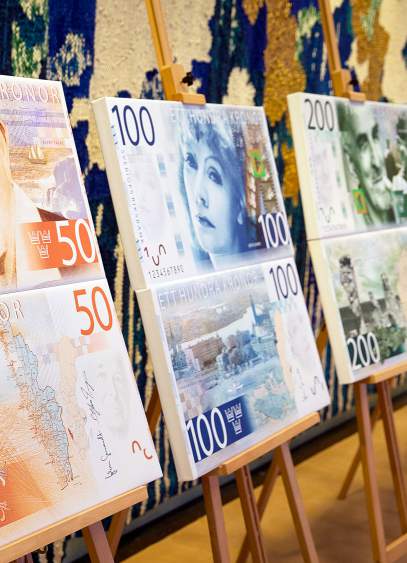 As a campaign to get a woman on the $20 bill picks up steam, you might be surprised to learn just how far behind the times the United States is compared with other countries.
At least 10 other nations have already recognized female leaders on their banknotes, including Syria, the Philippines, and Israel.
RELATED: Money Fears that Block Women From Wealth
Click through the gallery below to see which countries made the list. Then take MONEY's poll to vote on the woman you'd most like to see on American currency. If you need inspiration, check out WomenOn20s official site to learn more about candidates like Susan B. Anthony, Betty Friedan, Shirley Chisholm, and Sojourner Truth.
Syria
Queen Zenobia
Syria's current image is that of a nation wracked by civil war and struggling against the violent militant group ISIS. But it outpaced the United States on one sign of social progress: recognizing women on official currency.
Syrian Queen Zenobia, known for fighting back against Roman colonizers in the second century AD, appears on the 500-pound note.
Philippines
During the mid-1980s, the Philippines introduced a 500-peso note featuring prominent senator Benigno Aquino Jr., who had been assassinated in 1983. His wife, Corazon Aquino, went on to become the first female president of the Philippines—and the first female president in Asia, for that matter—and her image was added to the bill after she died in 2009. Early 20th-century suffragette Josefa Llanes Escoda also appears (alongside two men) on the 1000-peso note.
 Turkey
In Turkey, the current 50-lira note features turn-of-the-century novelist and women's rights activist Fatma Aliye Topuz on its reverse side. (The first president of Turkey, Mustafa Kemal Atatürk, appears on the front of every bill.)
Mexico
500 Mexican pesos notes on a table with traditional Mexican ornament. The note has the portrait of the painter Diego Riviera on one side and Frida Kahlo on the other.
Mexico's 500-peso note shows muralist Diego Rivera on the front and his wife and fellow artist Frida Kahlo on the back. Her image is a 1940 self-portrait, alongside a famous painting of hers from 1949, "Love's Embrace of the Universe, the Earth (Mexico), Myself, Diego and Señor Xólotl." Seventeenth-century Mexican writer Sor Juana Inés de la Cruz appears on the 200-peso note.
Argentina
Eva Peron (1919-1952) on 2 Pesos 2001 Banknote from Argentina. Second wife of President Juan Peron.
Argentina's beloved former First Lady Eva Perón—widely known by her nickname "Evita"—appears on the current 100-peso bill. The 20-peso note depicts 19th-century Argentine political activist Manuela Rosas along with her father, politician Juan Manuel de Rosas.
RELATED: Men and Women on Differences in Money Decisions 
New Zealand
New Zealand 10 Ten Dollar Bank Note
Like many other former British colonies, New Zealand features Queen Elizabeth II on its currency—the 20-dollar note to be precise. But Kiwi banknotes also honor suffragette Kate Sheppard, who in 1893 helped New Zealand become the first country in the world with universal voting rights for both men and women. Her image appears on the 10-dollar bill.
Israel
A portrait of Israeli poet Rachel Bluwstein, who lived from 1890 to 1931.
The Bank of Israel recently announced that it will be adding images of two female Israeli writers to forthcoming 20- and 100-New Shekel banknotes, respectively. The former will feature turn-of-the-century poet Rachel Bluwstein, and the latter author, poet, and literary expert Leah Goldberg, who died in 1970.
RELATED: 5 Common Confidence Mistakes Women Make 
Sweden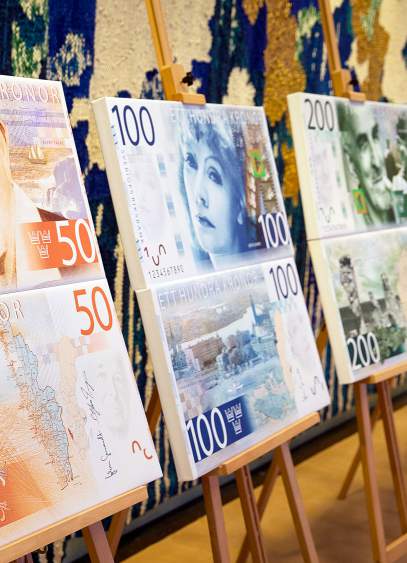 Artwork showing the designs of new folding Swedish krona, or kronor, currency notes due to be issued in 2014 stands on display at the Riksbank in Stockholm, Sweden, on Tuesday, Jan. 22, 2013.
Imagery on the krona celebrates several women in Sweden's history. Currently there's Selma Lagerlöf—the first woman to win the Nobel Prize in Literature—on the 20-krona note, as well as 19th-century opera singer Jenny Lind on the 50-krona bill. Starting this fall, a new line of banknotes will feature Pippi Longstocking author Astrid Lindgren on the 20-krona, 20th-century soprano Birgit Nilsson on the 500-krona, and classic film actress Greta Garbo on the 100-krona note.
Australia
An Australian one-hundred dollar banknote
Dame Nellie Melba on the Australian 100-dollar banknote
Australia has one woman on either the front or back of every banknote currently in circulation. They include Queen Elizabeth II on the front of the $5 bill, social reformer and writer Dame Mary Gilmore on the back of the $10, 19th-century businesswoman Mary Reibey on the front of the $20, politician and social worker Edith Cowan on the back of the $50, and turn-of-the-century soprano Dame Nellie Melba on the front of the $100 note.
England
Jane Austen to feature on banknote. Mark Carney, the Governor of the Bank of England, with the ten pound note featuring Jane Austen at the Jane Austen House Museum in Chawton, near Alton. The Austen note will be issued within a year of the Churchill £5 note, which is targeted for issue during 2016.
The new Jane Austen £10 note will look like this.
If featuring women on currency were a contest, the Bank of England would win, with every note since 1960 depicting Queen Elizabeth II on the front. Past bills featured nurse and statistician Florence Nightingale on the back, current 5-pound notes show 19th-century social reformer Elizabeth Fry, and the next 10-pound bill will celebrate famed 19th-century author Jane Austen.
Now, we want to hear from you! Would like to share your opinion or make a comment on the Unlock Your Wealth Radio Show? If so, then please leave your comment or questions in the space provided below and share this article with your friends and family on Facebook and Twitter. Your comments or question could be chosen as our featured Money Question Monday and a phone call by financial expert Heather Wagenhals could dial your way to be live on the Unlock Your Wealth Radio Show.