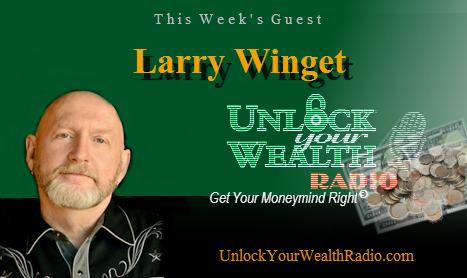 Best-Selling author and the "Pitbull of Personal Development", Larry Winget joins Heather Wagenhals, personal finance expert and host of Unlock Your Wealth Radio. Best of Season 23 continues this Friday, May 1 at 9AM PST on the Libsyn Platform as these two discuss Winget's book and the personal and money challenges America faces.
Larry Winget has established himself as an icon in the world of personal development and self-help. You won't find many people who don't know or who won't recognize him as a result of his five national bestsellers, his thousands of on-stage appearances or his many regular television appearances. Larry was the first to be willing to take on the "positive attitude" motivational speakers and the Law Of Attraction bozos with his common sense, back to the basics approach. Larry still believes that hard work and excellence are the keys to success and communicates that like no other person on the planet can!
Tune in this Friday, May 1 at 9AM PST on the Libsyn Platform to hear the hilarious Larry Winget make you think about every situation and decision. The topics might make you uncomfortable, however his common sense solutions are impossible to argue with in this interview.
This week's key trivia is based on last week's key:
Knowledge is Power, Not Knowing is Powerful
Learn more about The Keys to Riches Financial Wellness Series in this week's key: Keys to Riches
Season 23: The Best of Unlock Your Wealth Radio with Heather Wagenhals is where listeners can get their MoneyMind©Right with the hottest names in successful personal finance and celebrity guests like Larry Winget of A & E's Big Spender, star of Million Dollar Listing BRAVO Chris Leavitt, and Sharon Lechter co-author Rich Dad Poor Dad. Our lineup of guests for The Best of Season 23 continues with T. Harv Eker author of Secrets of the Millionaire Mind, Nathaniel Branden the Father of Self-Esteem, Chicken Soup magnate Mark Victor Hansen, real estate expert Jason Hartman, Kiana Danial the Invest Diva, Mastering Happiness coach Dr. Joel Wade,  NFCC-accredited Consumer Credit Counselor Thomas Nitzsche, serial entrepreneur Tom Corson-Knowles and frugal living expert Sara Tetreault.