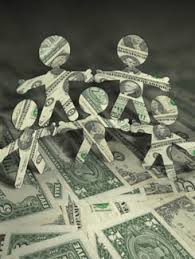 Finances are an important topic to discuss in front of children and actually revealing your financial health status is good for other members in the family to know.
If you argue at all about money (and most people do — at least sometimes), then there's a good chance your children or grandchildren have already experienced some discussion of family finances. So, that's all the more reason to make sure that they hear more than just arguing — that they have the experience of listening to calm and reasoned discussions of the family budget.
RELATED: How to Choose the Financial Planner in Your Family
It's not necessary for younger children to know every detail of your financial life, although they should gradually be included more and more, as they get older. But, they should know, in general, how things are going — whether times are good or not. I feel that these areas ought not to be a secret — they have a right to know, and sometimes they have a responsibility to know the ups and downs of the family they are part of.
RELATED: How to Lend Money to Friends and Family without Regret
By the time the kids are 11 or 12 years old (you decide if that is appropriate), they should be ready for the "Bill-Paying Game," a deep-dive into your real household budget. As a parent, I know you may be cringing at the suggested age, but don't put this off until they are teenagers. It really is true that teens, if they are not disabused of this notion early, can start thinking that money does grow on trees. It is hard to get a teen to ever listen to a parent. A responsible 11-year-old, who still considers you worth listening to and who thinks it is a privilege to be given family responsibility, is the perfect candidate for this project.
Now, we want to hear from you! Would like to share your opinion or make a comment on the Unlock Your Wealth Radio Show? If so, then please leave your comment or questions in the space provided below and share this article with your friends and family on Facebook and Twitter. Your comments or question could be chosen as our featured Money Question Monday and a phone call by financial expert Heather Wagenhals could dial your way to be live on the Unlock Your Wealth Radio Show.