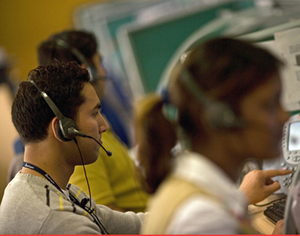 According to the complaint, Thaker obtained information — often including Social Security or bank account numbers — of consumers who had "inquired about, applied for, or obtained online payday loans."
He then worked with telephone callers in India, who made calls to consumers using deceptive statements and threats to convince them to pay debts that were not owed or that he was not authorized to collect, the FTC alleges.
Since January 2010, about eight million calls have been traced to the scam, resulting in 17,000 transactions and collecting more than $5 million from victims, the FTC charged.
Thaker "profited handsomely from this scheme," the SEC alleged in a court filing. The Indian American withdrew "tens of thousands of dollars from the American Credit Crunchers and Ebeeze bank accounts," the FTC said.
"This is a brazen operation based on pure fraud, and the FTC is committed to shutting it down," said David Vladeck, director of the FTC's Bureau of Consumer Protection.
"Consumers should not be pressured into paying debt they don't remember owing. Legitimate debt collectors must provide consumers with both written information about the debt, and instructions for protecting themselves if they don't think they owe the debt."
Thaker's companies allegedly wrongly informed consumers they were delinquent on loans, lied about having the authority to collect debts, misrepresented themselves as law enforcement officials or attorneys, and made false threats against consumers who refused to pay alleged debts, including threats of arrest or imprisonment.
The FTC filed a complaint and a request for a temporary restraining order in U.S. District Court for the Northern District of Illinois Feb. 13. The court granted the request the next day.
Callers typically demanded more than $300 and sometimes as much as $2,000, the FTC said. At other times, callers said they were filing a lawsuit against a consumer because of the delinquent loan or would have the consumer fired from his or her job.
At an FTC press conference in Chicago Feb. 14, fraud victim JanLaree DeJulius of Las Vegas, Nev., said she received a call from someone claiming to be an enforcement officer from the non-existent "Federal Department of Crime and Prevention," who threatened to have her arrested and have her wages garnished if she didn't pay a bill of more than $730. The scammers had somehow obtained her name and information from a payday loan her ex-husband had taken out in her name.
"It was very embarrassing," DeJulius said. "He knew everything about me so I agreed to set up an installment (plan)."
Over the last two years, consumers have filed more than 4,000 complaints with the FTC and state attorneys general about fraudulent debt collection calls, the FTC said, adding that this is the first time the FTC has investigated complaints on calls originating from India.
Thaker was not available for comment when contacted by the Huffington Post Feb. 14. "A woman who claimed to be Thaker's older sister and asked not to be named for privacy reasons said he is working with the FTC to help the Indian government pursue the fraudster call center operators," the Post said, adding she claimed her brother was innocent in the case.
"He was being used by somebody. He didn't even know where they got the information," she said by phone.
PTI reported that, based on payment documents and the VOIP address, the FTC has determined that the call center where calls originated was run by Zeus Inc. Pvt. in Ahmedabad.
Nirav H. Raichur and Parag B. Chaudhari, residents there, are listed as directors of the company. U.S. authorities are seeking the help of Indian agencies in their probe, PTI reported.
Although the IP addresses revealed that the calls originated from India, and frequently from Ahmedabad, consumers indicated that their caller ID displayed domestic or blocked phone numbers, the FTC said.
"We are aware of the defendants in this case making payments to one Indian company in Ahmedabad from where these phone calls originated based on the VOIP address," an FTC official told PTI. "Records indicate that payments were made to a company called Zeus Ink. Pvt. Ltd."
Now, we want to hear from you! Would like to share your opinion or make a comment on the Unlock Your Wealth Radio Show? If so, then please leave your comment or questions in the space provided below and share this article with your friends and family on Facebook and Twitter. Your comments or question could be chosen as our featured Money Question Monday and a phone call by financial expert Heather Wagenhals could dial your way to be live on the 

Unlock Your Wealth Radio Show

.