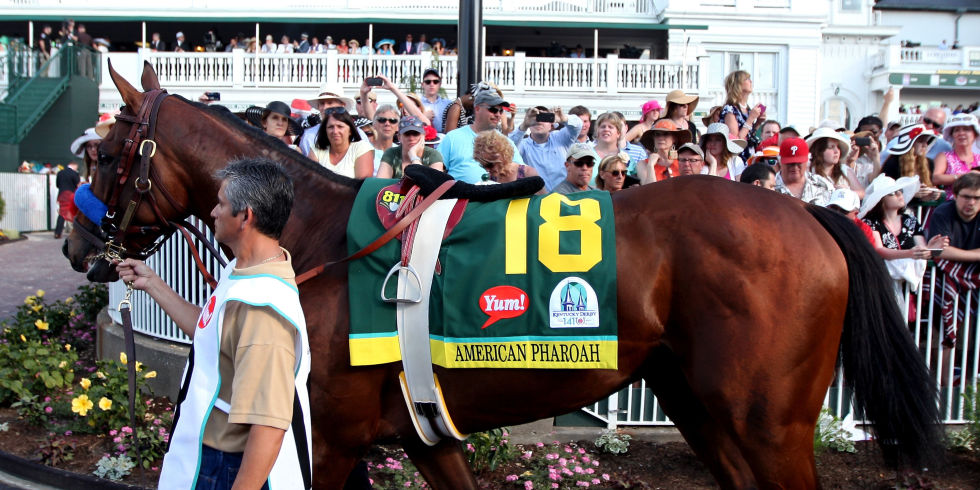 On Saturday night, as magic hour settled down on New York City, American Pharoah won the first Triple Crown in the past 37 years. The first place finish was worth $800,000 to the owners—bringing the total prize money that the handsome and muscular colt has won to $4.5 million in just two years at the track.
But even that Pharaonic sum is small change compared to what he could stand to earn in the next few years. If making money is the goal, American Pharaoh has only just entered the starting gate.
RELATED: Kentucky Derby 2015 Purse: Prize Money Payout for Each Owner, Horse and Jockey
His owners, the Zayats, have shown an appetite for placing major wagers before—but probably nothing approaching the stakes they're facing now.
The Zayats are already planning to retire the Triple Crown winner soon—reports suggest that they have made a sizable deal that would cover at least a portion of his future breeding rights. And the minute he arrives in Lexington, Kentucky, he will become a very sought after—and highly compensated—piece of horse flesh.
A pre-eminent sire, as the industry calls the top earner in the breeding shed, can make as much as any athlete in sports. The current leading sire, who commands $300,000 a shot, is Tapit, who sired Frosted, who finished right behind American Pharoah in the Belmont Stakes, and Tonalist, the horse that denied California Chrome the Triple Crown last year. Tapit probably services 100 to 150 mares every year, for an annual take of $30 to $45 million.
American Pharoah won't command that sort of fee right away—Tapit has clearly proven over the years that he can "throw runners" as the Kentucky hardboots say. Near the end of American Pharoah's 2 year old campaign, for which he won the Eclipse Award as the 2-year-old champion male, reports emerged that the Zayats had arranged for the horse to retire to Ashford Stud in Lexington after his racing career.
RELATED: 5 Billionaires Who Started with Nothing
Similar stories followed his victory in the Preakness. Although the Zayats say that they have retained a percentage of his breeding rights, by selling a hefty stake in American Pharoah's career at stud, they seem to be following the safest course, by walking away with millions right away. (Justin Zayat, the owner's oldest son, suggested that even the partial sale had netted them something "north of $20 million.")
Fusao Sekiguchi, the Japanese owner of the 2000 Kentucky Derby winner Fusaichi Pegasus (remember him coming to the winners circle at Churchill Downs surrounded by two women in traditional obis?), chose to go that route and got $60 million from Irish breeder John Magnier before the horse had even put a hoof in a breeding shed. (Magnier owns Ashford Stud and will now be running American Pharoah's upcoming breeding career.) I'm sure Cigar's owners wished that they'd taken a similar deal when that horse retired: the colt who made more money at the track than any other horse in Thoroughbred history shot nothing but blanks when breeding season came around.
The Zayats are smart to hedge their bets, by only selling portions of the horse's future career at stud—a strategy they seem to be following with the horse's sire, Pioneer of the Nile, as well. That way they get both the immediate return and still hold onto the chance to cash in if the colt proves to be a stallion like Tapit, with a long list of children who have won at the most prestigious races.
RELATED: 10 Best Hollywood Movies About Money and Politics
The reason they might want to hedge their bets is this: if his children win at the track, then retire to stud and prove to be valuable stallions themselves—something that wouldn't become clear until about ten years from now—then American Pharoah's stud fees would skyrocket, because breeders would be paying for the chance to get the big money available at stud. The highest compliment in the breeding world is to call a stallion a "sire of sires." Stallions like that don't come around that often. And when they do, they make more money than Jamie Dimon and Lloyd Blankfein combined.
Now, we want to hear from you! Would like to share your opinion or make a comment on the Unlock Your Wealth Radio Show? If so, then please leave your comment or questions in the space provided below and share this article with your friends and family on Facebook and Twitter. Your comments or question could be chosen as our featured Money Question Monday and a phone call by financial expert Heather Wagenhals could dial your way to be live on the Unlock Your Wealth Radio Show.