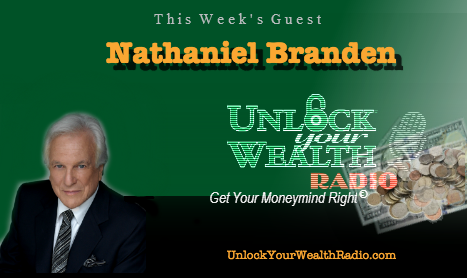 Unlock Your Wealth Radio welcomes back the interview with the late Nathaniel Branden and Heather Wagenhals, host of UnlockYourWealthRadio.com. Tune in to Libsyn's Popular Money Show as we reair Nathaniel Branden discussing his seminal work on Self-Esteem, the missing link to Objectivism.
Over the last seven decades, Dr. Branden has lectured on self-esteem and its impact on love, work and the struggle for contentment. During this time, the subject of self-esteem has evolved from one that struggled to gain widespread acceptance to one that is discussed daily.
During his prolific career, Dr. Branden has written nearly 20 books on self-esteem, including such luminary works as The Psychology of Self-Esteem, How to Raise Your Self-Esteem, The Six Pillars of Self-Esteem and The Art of Living Consciously.
Tune in to this valuable interview as Nathaniel highlights the importance of having respect and concern for a child's feelings, emphasizing the importance of how we are setting our children up for failure and ways we become damaged if we allow our children to get a trophy over everything. Rest assured Nathaniel comforts listeners to understand that even though we may be damaged, our behavior is reparable.
Listen to Nathaniel and Heather share more on self-esteem and the missing link to objectivism:
Season 23: The Best of Unlock Your Wealth Radio with Heather Wagenhals is where listeners can get their MoneyMind©Right with the hottest names in successful personal finance and celebrity guests like Larry Winget of A & E's Big Spender, star of Million Dollar Listing BRAVO Chris Leavitt, and Sharon Lechter co-author Rich Dad Poor Dad. Our lineup of guests for The Best of Season 23 continues with T. Harv Eker author of Secrets of the Millionaire Mind, Nathaniel Branden the Father of Self-Esteem, Chicken Soup magnate Mark Victor Hansen, real estate expert Jason Hartman, Kiana Danial the Invest Diva, Mastering Happiness coach Dr. Joel Wade,  NFCC-accredited Consumer Credit Counselor Thomas Nitzsche, serial entrepreneur Tom Corson-Knowles and frugal living expert S

ara Tetreault.