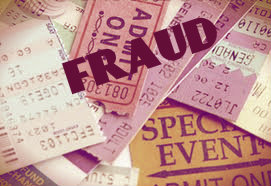 Concert season is in full swing and so are the fraud attacks. Several great performances are taking place in London, including rock band Muse at the Download Festival, Elton John at the Banks's Stadium in Walsall and Irish singer-songwriter Damien Rice in the grounds of London's Royal Hospital Chelsea. All of these phenomenal artists really increases tickets prices and the alert on concert ticket fraud.
A warning was issued this week for music fans after latest figures show at least $5.23m was lost to ticket fraud in 2014, with victims losing on average $390.64 each.
RELATED: Top 5 Summer Scams to Avoid
The data was issued by the City of London Police's National Fraud Intelligence Bureau, and included all forms of ticket fraud: from gigs and festivals to sporting events such as the 2014 World Cup in Brazil, as well as flights.
The headline figure of $5.23m is likely to underestimate the scale of the problem, as it only includes incidents reported to the authorities. Some people are too embarrassed to own up to having been scammed, or they simply decide to write off the loss.
The nature of the frauds can vary, but it usually boils down to tickets being sold that either don't exist or never materialized.
One intriguing finding was that almost 6% of all the reported cases last year involved concerts by just two acts: One Direction and Beyoncé. Both played a series of big UK shows in 2014.
There was also a worrying rise in the number of teenagers being targeted by ticket scams – which goes hand in hand with an increase in the use of social media websites to facilitate the frauds. Facebook was mentioned in around 12% of all reports recorded in 2014.
"Both Beyoncé and One Direction have a huge teenage following, which is likely to have contributed to the increase in people aged 20 and under reporting ticket fraud," says a spokesman for Get Safe Online, an initiative backed by the government, Ofcom and leading companies.
RELATED: Mobile Fraud: Time To Start Paying Attention
Overall levels of reported ticket fraud were down slightly on 2013, when more than $5.78m was lost to this crime.
Use the following tips to prevent concert ticket fraud:
• Buy tickets only from the venue box office, promoter, official agent or reputable ticket exchange sites.
• Remember that paying by credit card offers greater protection than other payment methods in terms of fraud, guarantees and non-delivery.
• Do not reply to unsolicited emails from sellers you don't recognize.
• Before keying your card details into a website, ensure that the link is secure, in three ways. 1) There should be a padlock symbol in the web address frame which appears when you attempt to log in or register. Be sure that the padlock is not on the page itself. This probably indicates a fraudulent site. 2) The web address (URL) should begin with "https://". The "s" stands for "secure". 3) If using the latest version of your browser, the address bar or the name of the site owner will turn green.
• If you decide to buy tickets from someone you don't know (for example on eBay), never transfer the money directly into their bank account. Use a secure payment site such as PayPal.
• Check your bank statements carefully after buying tickets to ensure that the correct amount has been debited, and also that no fraud has taken place as a result of the transaction.
Now, we want to hear from you! Would like to share your opinion or make a comment on the Unlock Your Wealth Radio Show? If so, then please leave your comment or questions in the space provided below and share this article with your friends and family on Facebook and Twitter. Your comments or question could be chosen as our featured Money Question Monday and a phone call by financial expert Heather Wagenhals could dial your way to be live on the Unlock Your Wealth Radio Show.