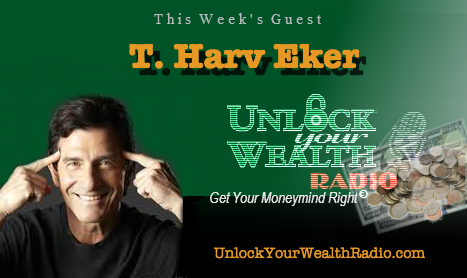 T. Harv Eker, author of Secrets of the Millionaire Mind & Motivational Speaker, joins host of Unlock Your Wealth Radio, Heather Wagenhals, team up to talk about the "crappy life" people are financially dealing to themselves. Tune in this Friday, June 19th at 9AM PST on the Libsyn platform as T. Harv Eker explains how it's up to you to change your financial situation with your own willpower and determination to take the next steps that are dealt your way.
Unlock Your Wealth Radio helps people learn how to manage their money better saving time and reducing stress, creating a debt-free life to choose wealth and happiness with Heather's proven strategies.  With special guests, celebrities and the financial gurus of our times, finally…financial freedom can be yours at www.UnlockYourWealthRadio.com.
Tune in to this week's Best of Unlock Your Wealth Radio on Libsyn's platform as T. Harv Eker's interview reairs for thousands of listeners to find the financial future they desire for themselves and their families.
This week's key trivia is based on last week's key: Forget the Perfection Principle
Season 23: The Best of Unlock Your Wealth Radio with Heather Wagenhals is where listeners can get their MoneyMind©Right with the hottest names in successful personal finance and celebrity guests like Larry Winget of A & E's Big Spender, star of Million Dollar Listing BRAVO Chris Leavitt, and Sharon Lechter co-author Rich Dad Poor Dad. Our lineup of guests for The Best of Season 23 continues with T. Harv Eker author of Secrets of the Millionaire Mind, Nathaniel Branden the Father of Self-Esteem, Chicken Soup magnate Mark Victor Hansen, real estate expert Jason Hartman, Kiana Danial the Invest Diva, Mastering Happiness coach Dr. Joel Wade,  NFCC-accredited Consumer Credit Counselor Thomas Nitzsche, serial entrepreneur Tom Corson-Knowles and frugal living expert S

ara Tetreault.