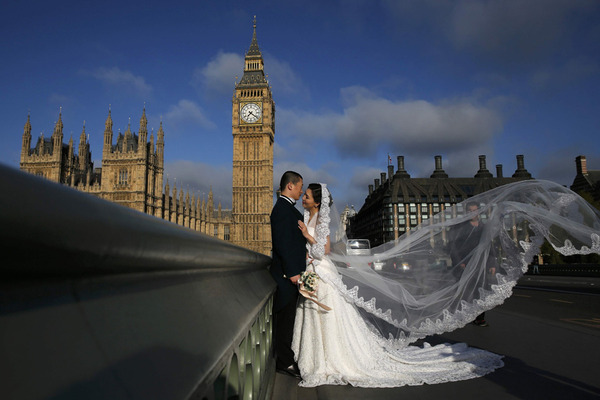 Congratulations on your engagement! Now that you're getting down to the nitty gritty of planning a wedding you may have entered the panic phase  like so many couples do when they realize just how much a wedding can cost and how little savings they have.
Even if you haven't saved enough money, even if you don't have a massive budget, you can still have a lovely wedding that will represent you both as a couple and that you can be proud of. And you don't have to borrow or beg.
RELATED: 7 of The Priciest Weddings… for Guests
Here are 9 tips to have your fairy-tale wedding at a low cost, courtesy of CS Monitor:
1. Choose What Matters Most
The most important thing you can do to save money on a wedding is to figure out what is important to you. Some couples care a lot about their venue, but they don't need a video of the day. Others have to have a video, because they will watch it on every anniversary forever and ever, but they don't care much about flowers.
You need to choose what is important to you. Pick two or three of the most important things (maybe your dress, your photographer, and your caterer), and plan to put the majority of your budget toward these. It's not that the rest doesn't matter, but that these are the places where you want to invest your time, your energy, and your money. These are the things that will make your wedding yours.
2. Register for a Honeymoon
Didn't save enough for your honeymoon? No problem! You can register for a honeymoon online, and people can contribute knowing that their money is secure and they are helping you have a trip you'll never forget.
This is particularly useful if you don't need very much to start your household. If you have been living together, or each living on your own, for a while, you'll have most of what you need as far as cooking, cleaning, etc. goes. Let guests contribute to your honeymoon, and you'll not only save money, but you won't have to return as many gifts afterwards!
3. Keep it Simple
If it isn't important to you and it isn't making the wedding uniquely yours, keep it simple. If you don't care much about photography, let a friend take the photos and pass around some disposable cameras during the reception. If you like your venue as-is, don't spend money you don't have on elaborate centerpieces.
Again, this will look different for each wedding. But keeping simplicity in mind from the get-go will help you stick to your budget, no matter how little you have saved.
RELATED: Save on Your Engagement…and Your Financial Future 
4. Keep it Small
One huge way to cut wedding costs is to limit your guest list. This can be so hard, especially if you have a lot of family and friends or business contacts. You may even choose to make the day family-only, though that is a little extreme. Let your heart be your guide. Only invite people with whom you have intimate relationships and truly want to have by your side on that big day.
5. Ask for Help
Most of us know people who can help in some way with a wedding. Maybe your sister is a graphic designer or your brother a video ace. Don't hesitate to ask them for help. Even people who don't have a useful area of expertise can help you tie bows, staple programs, etc.
If you need more help than you're comfortable asking for, let it be known that you would love to have aid in lieu of a wedding gift. Allowing people to give time rather than expensive gifts means that even friends and family who can't afford much will be able to give you a lovely, valuable gift, and you won't have to spend as much of your limited savings on your wedding day.
6. Remember the 99 Cent Store
Some people think the 99 cent store is tacky, but many brides actually find decent candles, vases, and other pieces for their centerpieces and decorations there. Sure, you might have to try a couple of these stores before you find something you can use, but when you have all of your tables decorated for less than $50, you'll consider your time well spent. And you won't feel like you have to clean and save the pieces either, which will make for much less stress after the event.
7. Skip What Isn't Necessary
There are very few things that you have to have for a wedding, these days. Besides two people who want to marry, a license, an officiant, and two witnesses, you really don't need much else.
You don't need a bridal party. You don't need professional hair and makeup. You don't need alcohol, or favors, or a caterer. If it isn't important to you and didn't save enough to pay for it, you don't have to have it.
Instead of feeling like your wedding is lacking, think of these as things that make it stand out. People remember things that are different and, as long as they have fun, they will remember your wedding as a great day even if it doesn't have all of the standard features.
RELATED: 6 Crazy Money Rules Only Acceptable at Weddings
8. Make it Unique
More than anything else, you want your wedding to represent both of you and who you are as a couple, and you can usually highlight these things without spending a lot of money. I know a bride who was an ace softball pitcher, so she incorporated some of her old balls, gloves, and even trophies into the table decorations, and the whole effect was fun, quirky, and entirely them. Another couple I know put together a photo booth with some funky items they had laying around the house. It was a blast to do, didn't cost them much, and it made everyone laugh.
Plan to use at least some of your budget, no matter how limited, on things that really represent you, and you won't be sorry. In fact, people will probably remember your wedding for a long, long time, because you made it stand out.
9. Have Fun
If you have a great time, it won't matter how much or how little you spend on your wedding, because you and your guests will have fabulous memories no matter what. Remember what is important: You are getting married! Let the little details fall by the wayside, and let yourself be alive. Cry during the ceremony, saunter out the door with your beloved, dance with all of your heart, and drive away to the cheers and well-wishes of those you love the most. The greatness of the day lies in what is happening, not in how it looks. Even if you have almost nothing saved for the wedding, this will make for a wonderful day!
Now, we want to hear from you! Would like to share your opinion or make a comment on the Unlock Your Wealth Radio Show? If so, then please leave your comment or questions in the space provided below and share this article with your friends and family on Facebook and Twitter. Your comments or question could be chosen as our featured Money Question Monday and a phone call by financial expert Heather Wagenhals could dial your way to be live on the Unlock Your Wealth Radio Show.