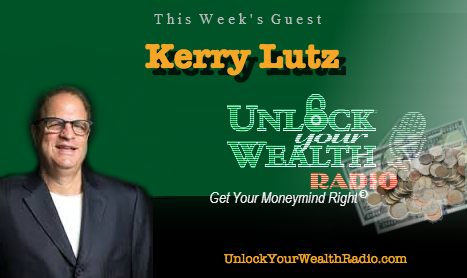 Kerry Lutz, Founder of the Financial Survival Network & an alliance of investment professionals with a common objective kicks off Season 24 of Unlock Your Wealth Radio with personal finance expert and host of UYWRadio.com, Heather Wagenahls. Tune in this Friday, July 3rd at 9AM PST as Kerry defines his perspective on Financial Independence and the challenges he surpasses everyday.
Kick off Season 24 of Unlock Your Wealth Radio with the best in the financial radio show as Kerry Lutz and Heather Wagenhals discuss struggles with finance, how to achieve Financial Independence and whether or not passion will lead you to financial freedom.
Invest in yourself, invest in your education and become the best person you can become and if you do that, you will find the world opens up and you become a better person with more possibilities." ~ Kerry Lutz
Kerry began his passion to be a radio show host in 2010. Thus the Financial Survival Network was born to help others prosper and thrive in the New Economy. Kerry has done hundreds of interviews with such financial luminaries like our very own host, Heather Wagenhals, along with Peter Schiff, Harry S. Dent, Martin Armstrong, Jim Rogers, Marc Faber and Peter Grandich. Kerry continually releases new segments and interviews on iTunes and YouTube and his new Triple Lutz Report was an instant hit and continues to increase audience share. As he says, "The Financial Survival Network, It's All About What's Next!" Visit the Financial Survival Network for more
Tune in to this interview on the Libsyn platform this Friday, July 3rd at 9AM PST as Kerry and Heather reveal their definitions of Financial Independence and how they overcome financial challenges everyday.
This week's key trivia is based on last week's Key: Become a Voracious Reader