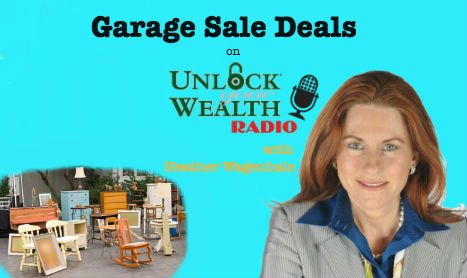 Tune in as to Unlock Your Wealth Radio, as personal finance expert and host Heather Wagenhals reveals how you can get the most bang for your garage sale buck.
Heather starts this interview by sharing the best garage sale apps for consumers and hosts of garage sales. These apps will help consumers find specific products they are looking for and where the garage sale is located, while hosts can advertise to specific geographic locations, uploading photos of products and adding deals to their garage sale that will intrigue more garage sale business.
Find out how to make the most out of your garage sale shopping with the list of ideas Heather has in store for you and your haggling techniques.
In this show airing on Friday, June 3rd at 9AM PST on the Libsyn platform we find out how you can advertise your garage sale,  the different apps to market your products, and how to properly price your products to get the most bang for your garage sale buck.
This week's key trivia is based on last week's Key: Create Credit