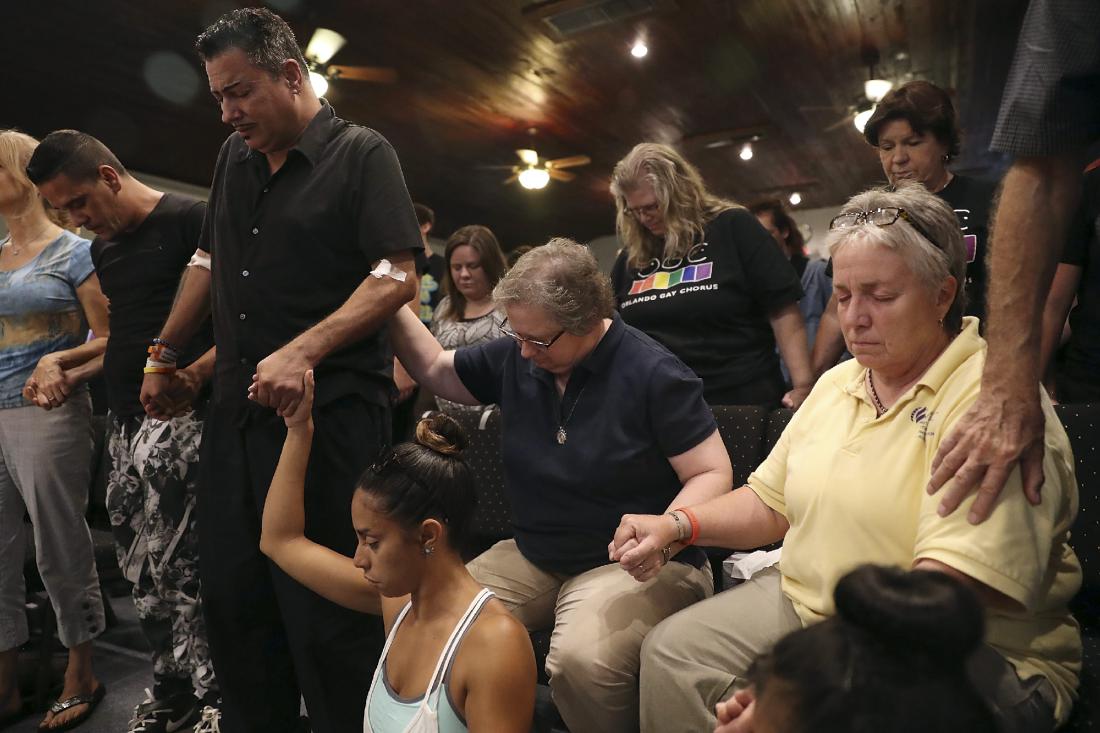 Over 600 people reportedly waited in line to donate blood in the wake of the largest mass shooting in U.S. history, in which at least 50 people were killed and 53 others were wounded when a gunman opened fire in an Orlando gay club. In a time of senseless violence and anger, it was a reminder that love and decency will ultimately win over hate.
There are more than 600 people in line waiting to donate blood for the victims of the #OrlandoShooting
The Orlando Sentinel reported that blood centers are at capacity due to the overwhelming number of people who came out to donate, but are encouraging people to come back over the next few days to do so. But you don't have to give blood to help. If you would like to donate money to support the victims and their families, here are some general guidelines to make sure your contributions make the biggest impact.
Organizations that keep overhead costs low are able to use more of your donations toward the actual cause. Sites such as Charity Navigator and GuideStar track which organizations use money most efficiently. While they have not yet released any information about Orlando organizations, a GoFundMe page set up by Equality Florida, the state's largest LBGT advocacy group, had raised $1.3 million from 33,624 people as of Monday morning.
We've reached out to Equality Florida for more details on how they will be dispersing the funds and will update this post for further information.
According to an FAQ on the GoFundMe page, "Every penny raised will be distributed directly to the victims and their families.
We are working with a team of attorneys and experts, including the National Center for Victims of Crime, which deployed funds in both Chattanooga and Aurora, to ensure funds are distributed correctly."
Long lines of people wait at the OneBlood Donation Center to donate blood
for the injured victims of the Pulse nightclub shooting.
The Center, an LGBT advocacy group, is providing a crisis hotline and grief counselors for people in the Orlando area (though anyone can call the hotline at 407-227-1446). The Center has also set up a GoFundMe page, and promises that 100% of the $184,000 raised since Sunday will go to the victims and their families. (We have reached out to the Center for more details.)
As we saw after Sandy Hook and other tragedies, there are always those who will use such events as an opportunity to scam people trying to help. That's why, as Charity Navigator writes, while social media is a powerful tool, particularly during times of crisis, you should never give donations via Facebook or Twitter directly. While it's ok to learn about an organization's mission there, always take the extra step to verify where you're sending money.
You should never give your credit card, password or other personal information via these requests for support. Instead, take the time to investigate the groups behind such pleas for help to ensure that it comes from a legitimate nonprofit and then go to that charity's website to make your donation."
Other Ways to Help
People across the country have arranged vigils and demonstrations to show their support for the victims, including one being planned by Equality Florida for Monday night.
As the Orlando Sentinel reported, "The Department of Veterans Affairs is providing emergency mental health assistance to Veterans, employees, and the general public in wake of the tragic mass shooting" in Orlando.
As Mashable noted, you can also support organizations that are helping victims and others in the LGBTQ community. The New York City Anti-Violence Project has a 24/7 hotline available (212-714-1141) and provides resources for those in the LGBTQ community affected by violence. Here's a list of top-rated LGBT non-profits from Charity Navigator.
Now, we want to hear from you! Would like to share your opinion or make a comment on the Unlock Your Wealth Radio Show? If so, then please leave your comment or questions in the space provided below and share this article with your friends and family on Facebook and Twitter. Your comments or question could be chosen as our featured Money Question Monday and a phone call by financial expert Heather Wagenhals could dial your way to be live on the Unlock Your Wealth Radio Show.