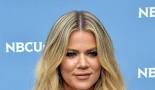 Khloe Kardashian is moving on and has a new man in her life. Things seem to be going well with Khloe and Tristan Thompson, but now a source is sharing that Khloe is spending her fortune trying to impress him.
Radar Online shared the details about what is going on with Khloe and Tristan at this time. It turns out that Khloe has been spending money on private jets, extravagant getaways, and lavish gifts. Of course, this is going to impress him, but it won't make the relationship last.
An insider of the Kardashian family is saying that Khloe could end up having money problems if she doesn't stop spending this much money on Tristan. The source shared details about how much money Khloe is blowing.
"Sure, Khloe has a fair bit of cash, but keep in mind she's not even worth a quarter of her sister Kim. She has to be much more careful and blowing hundreds of thousands of dollars on luxuries like $1,500 bottles of champagne is crazy no matter who you are."
Khloe Kardashian definitely had a hard time after her split from Lamar Odom. She dated French Montana and seemed to be moving on, and then Khloe dated James Harden for a bit. Now, Khloe is with Tristan, and it sounds like she doesn't want another failed relationship. Khloe hasn't been smart about the money she is spending and that could cause a lot of problems for her long-term. The source shared more details.
"Her responsible side went out the window the second she met Tristan. She wants to prove she's an independent woman who can keep up with him and treat him well, but it could well prove her undoing."
It isn't like Tristan is broke. Right now, Tristan has a contract for $82 million with the Cleveland Cavalier. The source shared that Khloe doesn't get paid for appearances the way that her siblings do. Khloe has money but doesn't have a product line and her show Kocktails with Khloe was canceled after one season. She may just need a reminder that she isn't as rich as her sisters and can't blow all of her money just trying to impress a guy.
RELATED: Oprah Loses More Than Weight
Us Magazine shared that it is obvious that Khloe Kardashian has a type. She likes athletes and rappers. These seem to be the only two types of guys that Khloe ends up dating. Everyone knows about Lamar, James Harden, and French Montana, but those are not the only rappers and athletes she has dated. Back in 2009, Khloe dated Rashad McCants, who plays in the NBA, and the same year she dated Derrick Ward, who plays in the NFL. When she first split from Lamar, Khloe was linked to baseball player Matt Kemp. You would never see Khloe Kardashian dating someone like Scott Disick; even though she does love him, this is just not her type of guy.
Right now, fans can't wait to see Khloe Kardashian fall in love again and find the right man. It is obvious that she wants to be married, have children, and get her happily-ever-after moment. Khloe just needs to find the perfect man to fit into her life. Tristan Thompson could end up being that guy, but right now, it is just too early to tell.
Are you shocked to hear that Khloe Kardashian is spending so much money trying to impress Tristan? Do you think that these two will make it work? Sound off in the comments section below, and don't miss Khloe when Keeping Up with the Kardashians returns to E! on Sunday nights. Right now, you can watch Rob & Chyna on Sunday's on the E! network.
Now, we want to hear from you! Would like to share your opinion or make a comment on the Unlock Your Wealth Radio Show? If so, then please leave your comment or questions in the space provided below and share this article with your friends and family on Facebook and Twitter. Your comments or question could be chosen as our featured Money Question Monday and a phone call by financial expert Heather Wagenhals could dial your way to be live on the Unlock Your Wealth Radio Show
[Featured Image by Slaven Vlasic/Getty Images]