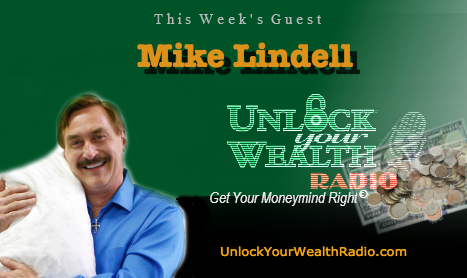 National Financial Literacy Month and
 Season 31 of Unlock Your Wealth Radio 
will feature the
 Best Of interviews
 with host
 Heather Wagenhals. 
In this first week we re-air Season 27 with
 Mike Lindell,
Inventor & CEO of MyPillow®, Inc. Tune in as Mike and Heather discuss entrepreneurs and the unknowings that occur during the journey to success.
Mike started his own business in his garage, working hard and not sleeping well, so he set out to design a pillow that would help him sleep. After two years he finally came up with the patented fill, ensuring MyPillow® that would be breathable and washer and dryer safe. Mike heard a lot of "no's" in those early years, but never gave up on his passion to share his pillow with the world and to this day Mike has more than 650 employees, and his company is expected to take in $100 million this year.
Tune in to hear this overnight success story and find out some of the growing pains Mike experienced along the way. In this interview Mike will also share his ups and downs of being an entrepreneur and offer lessons and advice to other entrepreneurs who are just starting their own company or going through struggles today.
This week's key trivia is based on last week's Key:
Become a Voracious Reader
Keys to Riches

 Podcast is LIVE!
Visit KeysToRiches.com to begin

listening to this week's Key Show
For being a loyal listener to Unlock Your Wealth Radio Mike Lindell is offering a 2 for 1 special using the
PROMO CODE: UNLOCK. Visit http://www.mypillow.com to order your MyPillow today!