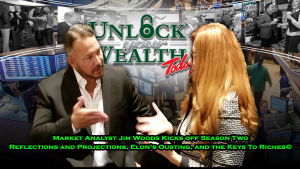 JIM WOODS has over 20 years of experience in the markets as a broker, hedge fund trader, newsletter editor, and contributor to numerous financial outlets. He's also a decorated special forces veteran, experienced horseman, motorcycle enthusiast and poet. Jim's unique blend of experiences gives him a world view unlike any other, one which led him to become the Top 3 stock picker in the world Ranked #3 out of 6,631 Bloggers on TipRanks (#11 out of 11,760 overall experts). Jim currently edits Successful Investing, Intelligence Report and works with Dr. Mark Skousen on Fast Money Alert.
Check out Jim's All-New service Bullseye Stock Trader and special offer for Unlock Your Wealth fans!
Click here and begin to enjoy the returns other subscribers to this service are creating for themselves with your risk-free trial here.